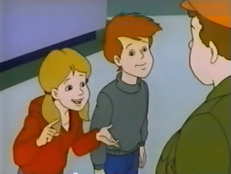 Template:CharactersBen and Lucy are twin siblings who live at Harefield Airfield. Their mother Mrs Nancy Kitchen runs the airfield's canteen.
Both twins are interested by the types of aircrafts which use Harefield. They also possess a bit of sibling rivalry from time to time.
Appearances
Edit
Ben and Lucy have been appeared in the following episodes:
Series 1 - Pippa Arrives, Chuck Comes Unstuck, Budgie's Blizzard, Ice Work, Budgie, Budgie Takes A Catch, The Air Show, Boots, Boats, and Budgie, Copters and Robbers, Daydreams & Candyfloss, Down on the Farm
Series 2 - Aliens Have Landed, Who's A Clever Budgie?, The Balloon Goes Up, Surprise, Surprise, Budgie's Opening Goal
Ad blocker interference detected!
Wikia is a free-to-use site that makes money from advertising. We have a modified experience for viewers using ad blockers

Wikia is not accessible if you've made further modifications. Remove the custom ad blocker rule(s) and the page will load as expected.