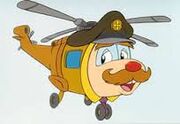 Captain
is the brown senior helicopter in the series, also known as the "Aircraft in Charge". He does not take kindly to Budgie, Pippa, or especially Chuck causing trouble and making themselves nuisances, but he keeps things in order with his patient but firm ways. He is voiced by
Jeremy Nicholas
.
Appearances
Captain has appeared in every episode of Budgie the Little Helicopter.
Basis
Captain appears to be inspired by a Westland Lynx helicopter. This type of aircraft was designed as a multi-purpose military helicopter, which could explain why Lionel takes his responsibility seriously. As of 2009, 450 Westland Lynx helicopters have been built.
Trivia
Captain gets annoyed when Chuck calls him "Lionel".
Gallery
Ad blocker interference detected!
Wikia is a free-to-use site that makes money from advertising. We have a modified experience for viewers using ad blockers

Wikia is not accessible if you've made further modifications. Remove the custom ad blocker rule(s) and the page will load as expected.