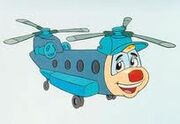 Chuck
is an American twin-rotored helicopter. He comes from America and of course doesn't understand British English well. He sometimes gets cocky, acts like a big baby and likes to show off, but this led him to trouble when he disrupted an air show and finished up in a pond. He also has a bad habit of calling Lionel "Captain".
Appearances
Chuck has appeared in every episode to date except The Runaway Train.
Basis
Chuck is based on the Boeing CH-47 Chinook. These helicopters are commonly used for military purposes.
Voice Actors
He is voiced by Kerry Shale, who has also voiced Diesel in Thomas & Friends.
Gallery
Ad blocker interference detected!
Wikia is a free-to-use site that makes money from advertising. We have a modified experience for viewers using ad blockers

Wikia is not accessible if you've made further modifications. Remove the custom ad blocker rule(s) and the page will load as expected.