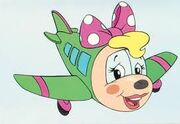 Pippa
is a small green single-engined monoplane with a tuft of blonde hair and a big pink bow. She was the second aircraft to arrive to Harefield Airfield, and at first, teased Budgie and called him a yo-yo (she called him a snail after overtaking him during the fast race). After a race and several comparisons about who was the best, they both became firm friends. She enjoys helping out, and also loves using the heli-wash (as opposed to Budgie). She is voiced by
Abigail MacVean
.
Appearances
Pippa has appeared in every episode of Budgie the Little Helicopter.
Basis
Pippa appears to inspired by a Piper Warrior aircraft, designed by light taxi work. However, unlike her real-life basis, Pippa lacks a propeller, which is located at the front of all Piper Warrior aircraft. This is likely because the animators would have had difficulty animated a moving propeller in front of Pippa's face. Despite this, Pippa can still be heard making sounds of a bi-plane whenever she flies.
Gallery
Ad blocker interference detected!
Wikia is a free-to-use site that makes money from advertising. We have a modified experience for viewers using ad blockers

Wikia is not accessible if you've made further modifications. Remove the custom ad blocker rule(s) and the page will load as expected.